How to shirts
How to T-shirts
How to shirt
How to T-shirt
How to shirts
How to T-shirts
How to shirt
How to T-shirt
All Income, No Costs

:
Sell Your T-shirts On The Web
by Thomas Christopher, PhD
This 150-page ebook is packed with information you can use NOW.
Get this

150 page E-book
AND
a
special report

showing you how to construct


plays on words


to make your T-shirt slogans SELL
AND
28 videos

—

worth $47

— showing you how to do

graphic design

with a FREE, POWERFUL graphic design package.
Yes, Thomas. This Is Just What I Need.
I Want To Make Money Selling T-Shirts On The Internet!
Please send me immediately: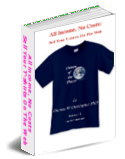 CLICK HERE TO PURCHASE
For the extremely low price of $29! $19! $12.95!



To use this ebook, you will need:
» a PDF reader;
» a PC with Windows 98/ME/NT4/2000/XP, a minimum of 128 MB of RAM (more is much better), 300 MB hard drive space, or more;
»

or

a Mac OS-X (with X11 User windowing system to run the GIMP image editor), 128 MB of RAM (more is much better), 300 MB or more hard drive space;
» a DSL Internet connection, or faster.
What this information can do for you
This book can

save you time

. Don't waste your time learning slowly by trial and error what you need to know. Get the learning part out of the way fast and get on to the money-earning part. This book cuts your learning time by months.

This book can save you money. If you have a computer and an Internet connection, it won't cost you anything to open shop on the web—once you know how. And this book shows you how.

This book can save you frustration. If you don't know what to do, you'll just put up some designs and wait for customers to find you — and wait, and wait. This book tells you what you need to know to find out what people are looking for and how to get customers to come.

This book can make you money. Not only does it show you how you can make money selling your T-shirt designs, it shows you other ways to make money on the web: This book shows you how to make money while you publicize your T-shirt shop. This book shows you how to find the right keywords—essential whatever you are selling on the web. This book even shows you how to make money by recommending this book to others.
Table of Contents
Just Look At What This Book Contains
Overview 2
How to Join the Shopkeepers Community 7
Where to Get the Necessities 14
How to Choose Keywords so Customers Can Find You 19
How to Set Up Your Shop 37
How to Create Text-Only Designs 50
How to Choose Background, Fonts, and Colors 74
Where to Get Images 82
How to Put Text With Images 88
How to Create your products 109
Ways Make Money 130
Looking Back and Forward 148
AND NOT ONLY THAT
Here are bonuses, absolutely free, that will raise your T-shirt business to the next level:
Bonus Number 1
You will receive — absolutely free — a special report showing you how to
write slogans

that will grab prople's attention and sell them your products!Learn how to construct the most powerful plays on words that will delight your customers — and make their friends want to buy their own.
Bonus Number 2
As a free bonus, you will receive
28 videos

on graphic design in GIMP.

All Income, No Costs: Sell Your T-shirts On The Web

will show you everything you need to know to get going quickly. When you are ready, these videos will show you the rest of GIMP.

-Thomas
P. S. - You supply your time, your computer, and your Internet connection. Get started making money. Everything you need to know is here. What are you waiting for?
How to T-shirts
How to shirt
How to T-shirt
How to shirts
How to T-shirts
How to shirt
How to T-shirt